Assortment
Beeswax
Handling of beeswax
Beeswax foundation
Melting, washing etc
KRAV
Beeswax melting
Waste packing
Send frames and beeswax to us
Beehives
Hive accessories
Glass jars, caps, packaging
Honey handling
Tools
Clothes
Feeding, bee pharmacy
Litterature
Queen bee breeding
Hygiene products
Candle making
Gifts
Other material
Catalogs
SALE
Read our new catalog!
Click on the image to download
Töreboda Biredskap nr 59, 2022/2023 online.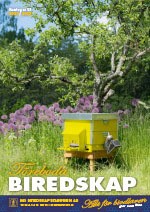 Download the catalog »
Assortment » Beeswax » Beeswax foundation »
Beeswax foundation
Beeswax sheets, standard sizes
Cellsizes 4,9, 5,1 and 5,3. Price per kilo.
Natural cellsizes
• Several thousand more cells in a box
• Room for more brood in the broodroom
• Stronger honeycombs
• Faster evaporation of nectar
NOTE! Don´t forget to choose size and cellsize next to the "Add to cart" button before you order. If no cellsize is chosen, 5,1 will be delivered which is standard.
If you choose Special Measure, please write Height x Length (in mm) in the textfield in the Order form when you check out. Refer to the product ID. On Special Measure orders with a total weight under 50 kilos a 40 SEK adjust fee will be added.