Assortment
Beeswax
Send frames and beeswax to us
Beehives
Hive accessories
Glass jars, caps, packaging
Honey handling
Tools
Clothes
Feeding, bee pharmacy
Litterature
Queen bee breeding
Hygiene products
Candle making
Gifts
Other material
Catalogs
SALE
Read our new catalog!
Click on the image to download
Töreboda Biredskap nr 59, 2022/2023 online.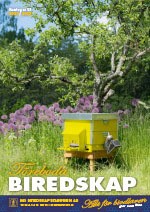 Download the catalog »
Privacy Policy MS Biredskapsfabriken AB

Your personal privacy is important to us and you should always be able to feel completely secure and know what happens and what is recorded when you submit your personal information to us.
Personal data is processed by us in accordance with applicable legislation and we want to show how we handle your personal data with this Privacy Policy.
The privacy policy applies when we, (MS Biredskapsfabriken AB, org. No. 556399-2238), provide services and products in connection with your purchase, in service matters and other contact with us, as well as when visiting our website.
The data controller responsible for processing your personal data is MS Biredskapsfabriken AB, org no 556399-2238, Haddebodavägen 4, 545 34 Töreboda.
We are responsible for ensuring that your personal data is processed in accordance with applicable legislation.

When is your information processed?
In order for you to visit our website, buy our goods or services or contact us for support or information, we must collect and process personal information about you.
The information collected from you during the purchase, booking and monitoring of goods is required for you to enter into an agreement with us and for us to be able to provide our services and offers.
Why do we process data?
· In order to fulfill our agreements with you as a customer, such as the execution of purchases, dispatch of goods, invoicing and payment, and providing support.
· To be able to provide customer service, answer questions, correct incorrect information.
· To be able to manage the customer relationship and provide our services.
· Improve our customer offering, such as development of services, products and functions.
· Comply with applicable legislation, such as accounting laws, distance trading laws, consumer purchasing laws, etc.

What information do we store?
The information we store in our database is only information that you yourself have provided to us or that we have collected from you when registering an order:
First and last name
Social security number and / or Organization number
Address
E-mail address
Phone number
payment details
Customer number
We may collect personal information from third-party service providers eg. information on creditworthiness from credit institutions at e.g. billing. However, this information is not saved but only checked at the time when it is possible. needed.
Personal data is stored to facilitate you for the next order.

Legal grounds
In order to be able to manage and manage our purchases, as well as deliver our order savings, we are in the customer register:
- Name, address, social security number, organization number, telephone number and e-mail
Legal basis for savings: The terms of sale

In order to be able to provide support and manage any complaints we save in the order register
- Name, address, telephone number and e-mail
- Pay reference
- Purchased goods
Legal basis for savings: The Consumer Purchases Act, the Distance Trading Act

In order to ensure compliance with legal requirements, such as the Accounting Act, we save in the order register
- Name, address, telephone number and e-mail
- Purchased goods
Legal basis for savings: The Accounting Act

To promote our goods and services through email, we save in the customer register / newsletter register
- Name, address, telephone number and e-mail
Legal basis for saving: Balance of interest

How is your data protected?
When you submit your personal information to us, you can be sure that:
-No unauthorized person will share your personal information
-We do not lend, rent, lease or sell any personal information to other companies or individuals.
-We have taken the technical security measures needed to protect your personal data against unauthorized access, alteration and deletion.

Who can your information be disclosed to?
We may disclose your information to third parties to fulfill our commitment to you as a customer, for example to payment service providers, warehouse management companies, shipping companies and communication services.
In addition, personal data may be disclosed by us if necessary to comply with applicable legal or regulatory requirements, to safeguard our legal interests or to detect, prevent or alert fraud and other security or technical issues.
Your information will never be sold, rented or otherwise disclosed to any unauthorized person in any way.

Your rights
You have the right, after written application to us, to be notified of what personal data we have stored about you and how we process them, a so-called register extract.
You have the right to receive corrections regarding personal data that we process about you.
You have the right to request that your personal data be deleted if they are no longer necessary for the purpose for which they were collected. However, there may be legal requirements that we may not immediately delete your personal information in, for example, accounting and tax legislation. We will then terminate the treatment done for purposes other than following the legislation.
You have the right to data portability. It means a right, under certain conditions, to obtain and transfer your personal data in a structured, widely used and machine-readable format to another personal data controller.
You have the right to object to personal data processing carried out with the aid of a balance of interests. If you object to such treatment, we will continue the treatment only if there are legitimate reasons for the treatment that outweigh your interests.
If you do not want us to process your personal data for direct marketing, you are always entitled to object to such processing. Once we have received your objection, we will cease processing personal data for such marketing purposes.
Please contact the following address in such cases:
MS Biredskapsfabriken AB
Haddebodavägen 4
545 34 Töreboda
You can also email: info@biredskapsfabriken.se
You also have the right to submit any complaints regarding the processing of your personal data to the Data Inspectorate. The Data Inspectorate is responsible for monitoring the application of the legislation, and anyone who considers that a company improves the handling of personal data can file a complaint with the Data Inspectorate incorrectly.

Change of the privacy policy
We may make changes to our privacy policy. The latest version of the privacy policy is always here on the site. For updates that are crucial to our processing of personal data (for example, changing specified purposes or categories of personal data) or updates that are not crucial to the processing but which may be of crucial importance to you, you will receive information on our website and via email (if you specified email) well in advance of the updates to take effect. When we make information about updates available, we will also explain the meaning of the updates and how they can affect you.