Assortment
Beeswax
Send frames and beeswax to us
Beehives
Hive accessories
Glass jars, packaging
Honey handling
Tools
Clothes
Feeding, bee pharmacy
Litterature
Queen bee breeding
Hygiene products
Candle making
Gifts
Other material
Catalogs
SALE
Read our new catalog!
Click on the image to download
Töreboda Biredskap nr 59, 2022/2023 online.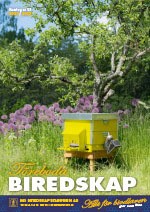 Download the catalog »
How to shop!

• Choose one of the departments to the left.
• Choose a category in the list displayed.
• Choose a product in the list displayed.
• Click "Add to cart" if you want to buy.
• When you are finished shopping, click "Your shopping cart".
• Fill in the order form and click "Send order".

Use the "+" and "-" buttons in the basket to add and remove products.
Quantitys
When ordering large amounts, type the desired amount in the textfield in the shopping cart and click the "+" button.
Questions
If you have any questions you are welcome to call or e-mail us.

Phone +46 (0)506-102 73
E-post info@biredskapsfabriken.se
Year colours
Klicka här

Standard sizes
Klicka här