Assortment
Beeswax
Send frames and beeswax to us
Beehives
Töreboda-beehive
The Töreboda-hive EPS
The Skälderhus-beehive
The Östervåla-beehive
The Rea Dan plastic beehive
PAW-beehive
Paradise BeeBox hive system
Observation hive
Straw hive
Nucleus box
Hive accessories
Glass jars, packaging
Honey handling
Tools
Clothes
Feeding, bee pharmacy
Litterature
Queen bee breeding
Hygiene products
Candle making
Gifts
Other material
Catalogs
SALE
Read our new catalog!
Click on the image to download
Töreboda Biredskap nr 59, 2022/2023 online.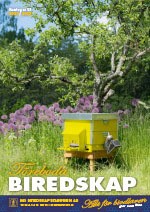 Download the catalog »
Assortment » Beehives » Paradise BeeBox hive system »
Paradise BeeBox hive system
The BeeBox Hive system is the result of 30 years of beekeeping experience in the biggest beekeeping operation of Scandinavia.

The BeeBox Hive system has been developed and tested in demanding weather conditions. Arctic winters colder than - 35°C and summer heat of more than 30°C provided the experience to know what bees and beekeepers await from a good bee hive.

All parts of the BeeBox Hive are made of food grade, extra hardened, expanded polystyrene (EPS) with a density over 100 kg/m3.

The standard measures are Langstroth and Dadant box sizes.