Assortment
Beeswax
Send frames and beeswax to us
Beehives
Hive accessories
Glass jars, caps, packaging
Honey handling
Tools
Clothes
Feeding, bee pharmacy
Litterature
Queen bee breeding
Hygiene products
Candle making
Gifts
Other material
Catalogs
SALE
Read our new catalog!
Click on the image to download
Töreboda Biredskap nr 59, 2022/2023 online.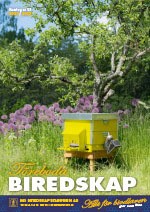 Download the catalog »
Töreboda-beehive complete, Norwegian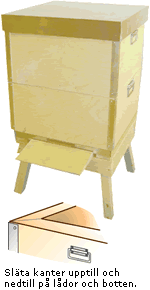 Töreboda-beehive complete, Norwegian
Artnr: 13-020
Complete with bottom, two boxes, slotted steel queen bee excluder, 3 cover boards, frames, plate roof and beehive entrance board. In contrast to the skälderhus-beehive this beehive has a smooth edge at the top and at the bottom of the boxes and the bottom. A complete beehive consists of two treasure boxes/brood bodies for 10 frames, slotted steel queen be excluder, cover boards, 20 frames and roof and bottom with beehive entrance board. Beehive entrance path 250 x 25 mm. Adjustable beehive entrance deminisher made of plate and detachable beehive entrance board. 17 mm bee path under the frames. The treasure boxes and brood bodies are internally and outwardly made of 4 mm plywood with 30 mm plastic isolation with air core. Luggage handles on two sides. The outward corners are protected by extruded aluminium. The Töreboda-beehive is produced for the frame sizes Lågnormal, Svea, HS, HLS, HN, LS and Norwegian standard. Combinations may be made with the different frame sizes. Bottom and roof fit all frame sizes.
The varroa mite bottom is included as standard. An isolated bottom may be choosed and must be added to the order. Please then click on Choice of isolated bottom or combi bottom below and put it in the shopping basket.
Please note, stand not included.
RELATED ARTICLES

Art.nr. 13-001
Choice of combi bottom for hives 13-01, 13-04, 13-019, 13-020 och 13-015-2