Assortment
Beeswax
Send frames and beeswax to us
Beehives
Töreboda-beehive
The Töreboda-hive EPS
The Skälderhus-beehive
The Östervåla-beehive
The Rea Dan plastic beehive
PAW-beehive
Paradise BeeBox hive system
Observation hive
Straw hive
Nucleus box
Hive accessories
Glass jars, caps, packaging
Honey handling
Tools
Clothes
Feeding, bee pharmacy
Litterature
Queen bee breeding
Hygiene products
Candle making
Gifts
Other material
Catalogs
SALE
Read our new catalog!
Click on the image to download
Töreboda Biredskap nr 59, 2022/2023 online.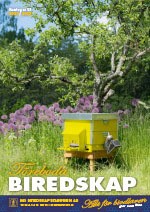 Download the catalog »
Assortment » Beehives » Töreboda-beehive » HN »
Isolated roof
Isolated roof
Artnr: 13-06
Isolated roof covered with aluminium plate. Fits all our frame sizes for Töreboda (not Langstroth, Farrar and Dadant), Skälderhus and Östervåla. Plastic isolation with air core.