Assortment
Beeswax
Beehives
Hive accessories
Glass jars, packaging
Honey handling
Bottlingmachines, sumps
Essential oils
Extractors, accessories
Honeycreamers, heating coils
Honeytanks
Refractometers
Scrapers, spoons
Strainers
Uncapping
Tools
Clothes
Feeding, bee pharmacy
Litterature
Queen bee breeding
Hygiene products
Candle making
Gifts
Other material
Catalogs
SALE
Read our new catalog!
Click on the image to download
Töreboda Biredskap nr 58, 2020/2021 online.
Download the catalog »
Assortment » Honey handling » Bottlingmachines, sumps »
Bottlingmachine, small*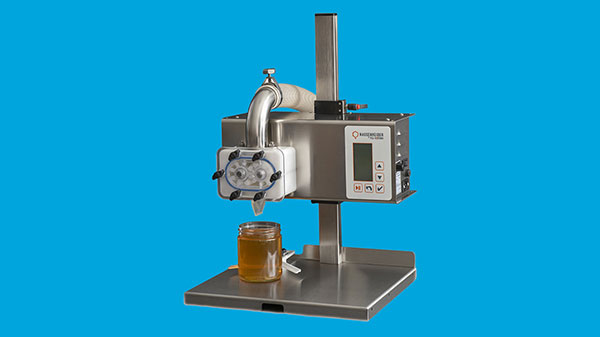 Bottlingmachine, small*
Artnr: 295-16
Bottling Machine with infinitely adjustable from 25 g to 5 kg. Precision ratio ± 3 g Capacity: about 600 pcs 500 g cans / h regardless of honey variety. Base model, nothing else needed to start filling honey.
We also have spare parts!
Watch video recordings here.
*0.00=Price quotaion on request, call +46 506 102 73 or send an email to info@biredskapsfabriken.se.