Assortment
Beeswax
Send frames and beeswax to us
Beehives
Hive accessories
Glass jars, caps, packaging
Honey handling
Bottlingmachines, sumps
Essential oils
Extractors, accessories
Honeycreamers, heating coils
Honeytanks
Refractometers
Scrapers, spoons
Strainers
Uncapping
Tools
Clothes
Feeding, bee pharmacy
Litterature
Queen bee breeding
Hygiene products
Candle making
Gifts
Other material
Catalogs
SALE
Read our new catalog!
Click on the image to download
Töreboda Biredskap nr 59, 2022/2023 online.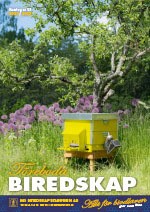 Download the catalog »
Assortment » Honey handling » Strainers »
THOMAS Strainer centrifuge*
THOMAS Strainer centrifuge*
Artnr: 210-14
Massive performance. Capacity approx 20 kg wax and honey. Separated in maximum 10 minutes. Stainless tank and interior. Detachable inner basket with a fine and a coarse strainer, nylon bag. Firmly positioned on a cast iron stand. With speed regulation, separate stand.
ø360 mm, height 820 mm, 220 V, 550 W. 1500 rpm.
Stainless steel basket, ø 320 mm. Height of honey outlet 310 mm.
*0.00=Price quotaion on request, call +46 506 102 73 or send an email to info@biredskapsfabriken.se.