Assortment
Beeswax
Send frames and beeswax to us
Beehives
Hive accessories
Glass jars, caps, packaging
Honey handling
Bottlingmachines, sumps
Essential oils
Extractors, accessories
Honeycreamers, heating coils
Honeytanks
Refractometers
Scrapers, spoons
Strainers
Uncapping
Tools
Clothes
Feeding, bee pharmacy
Litterature
Queen bee breeding
Hygiene products
Candle making
Gifts
Other material
Catalogs
SALE
Read our new catalog!
Click on the image to download
Töreboda Biredskap nr 59, 2022/2023 online.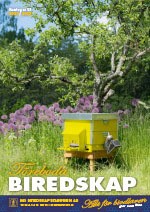 Download the catalog »
Assortment » Honey handling » Refractometers »
Atago digital refractometer
Atago digital refractometer
Artnr: 211-49
Refractometer with scale for water, suger, density of the honey and refractive index.

Automatic temperature compensation.

Built in thermometer for measuring of room temperature.

Easily calibrated with distilled water.

High accuracy.

Easy to handle.

Display, easy to read.

Delivered in case including batteries.