Product categories
Beeswax
Beeswax foundation
Beeswax melting
Melting, washing etc
Aproved Krav clearing!
Waste packing
Beehives
Hive accessories
Glass jars, packaging
Honey handling
Tools
Clothes
Feeding, bee pharmacy
Litterature
Queen bee breeding
Hygiene products
Candle making
Gifts
Other material
Catalogs
SALE
Beeswax foundation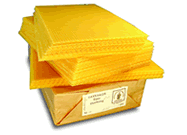 Beeswax sheets Lågnormal 197x342 mm (approx. 14 sheets/kg) 5,1
Item no: 1
Standard sizes. Cellsizes 4,9 / 5,1 / 5,3. Price per kilo. NOTE! When you choose Special Measure or Hoffmann, please write Height x Length in mm in the textfield which will be shown. On orders on Special Measures with a weight under 50 kilos a 40 SEK adjust fee will be added.
For sale when available.
Price: 185.00:-
Shopping basket
Total: 0 kr
News
Maja the bee coloring book

Price 65.00:-
Oxalic acid vaporizer proff. with hot air

Price 4615.00:-
Bird protection net

Price 73.00:-
Bucket support, wide model

Price 225.00:-
Campaign
Candle mould Dog
Decoration sand terracotta, coarse

Price 5.00:-
Dekoration sand blue, fine
Candle mould Gille candle with motif
Ceramic mug, 12 pieces
Candle mould Christmas tree candle
Frame carousel
Dekoration sand yellow, fine
Relief with heart design
Candle mould Hexagon candle